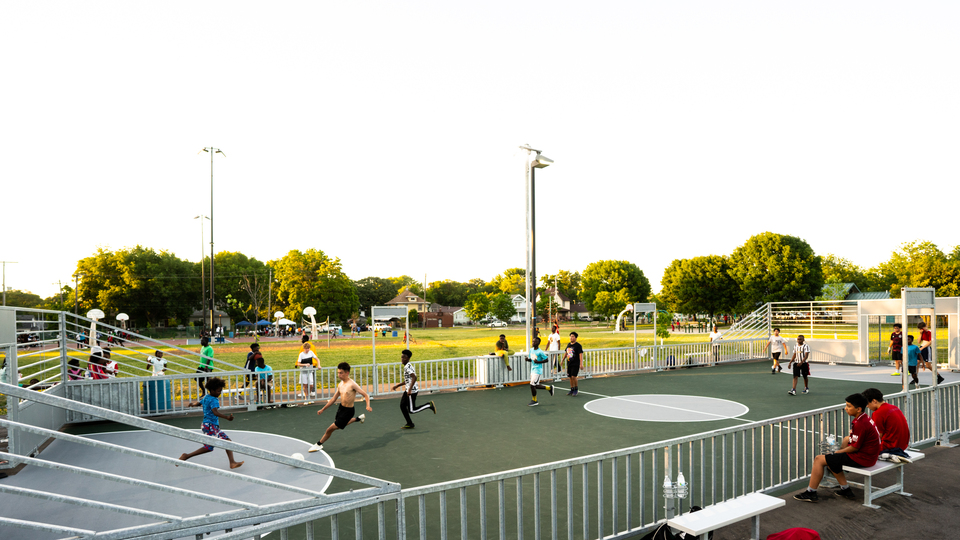 About the Initiative
Pro Iowa, through a unique $1 Million partnership with Musco Lighting and Kick it Forward, is donating 10 futsal-sized pitches (mini-pitches) to communities across the state. These mini-pitches offer the opportunity to rejuvenate abandoned courts and areas with limited space, creating a fun and active place celebrating the spirit of teamwork, empowerment, and fitness around the game of soccer.
What is a Mini-Pitch?
Musco's Mini-Pitch System™ Modular Sports Solutions are designed for futsal, and come fully equipped with lighting, fencing, goals, and benches, and will be open to the public. Each mini-pitch also features it's own uniquely-designed court!  Find the closest mini-pitch to you below.
Futsal 101
Futsal is a fast-paced, scaled-down soccer game played on a hard surface with dimensions similar to a basketball court. Games consist of four field players plus a goalkeeper.  Futsal has many benefits for both beginner and advanced players alike, including:
Improving player decision making skills
Providing players with more touches in-game
Developing player confidence in 1v1 scenarios
Increasing player creativity on the pitch
Improving player reaction time
From the Community
"This commitment from Pro Iowa and Musco Lighting serves as a blueprint for soccer influencers and professional soccer franchises across the United States to follow. Thousands of kids will grow up playing on these Mini-Pitch Systems while indulging themselves in a realistic dream of being a Pro Iowa player one day."
- Matt Sahag, Founder of Kick it Forward
"Iowa Storm is excited to utilize the new Sunrise Park Pro Iowa Mini-Pitch for off-season leagues and pickup games to help develop our players foot skills and creativity.  We look forward to sponsoring the court windscreens and our club is excited to support professional soccer in Iowa."
- Craig Naeve, Director of Coaching at Iowa Storm
"Pro Iowa is about making world's game accessible to all Iowans. We couldn't imagine better partners than Musco Lighting and Kick it Forward with their mission of fostering community through soccer. By providing safer places for young people to play, we can continue to strengthen our growing community of young soccer fans throughout the state ahead of our professional soccer club and stadium debut." 
- Kyle Krause, Krause Group chairman & CEO